Pressure Washing in Kansas City
If your outdoor surfaces look dirty, discolored, and grimy, it may be time to pressure wash them. Pressure washing will restore your home's curb appeal and ensure your outdoor surfaces last for years to come.
Renting out the equipment to do the pressure washing by yourself can set you back a good amount of money. Moreover, if you don't know how to use the equipment and which pressure-setting is for the surface you want to clean, you can end up doing more damage than actual cleaning.
By hiring a professional power washing service, you'll save up time, money, and the exterior surfaces of your home will get the care they need. We offer professional power washing services for the residents of Kansas City all year round.
Why Pressure Wash Your Outdoor Surfaces?
Dirt, mold, moss, algae, dust, and fungi aren't just tarnishing your home's outdoor surfaces. They can also cause structural damage that can lead to costly repairs. What's more, if you don't take care of the problem and repair it on time, you can easily end up spending thousands of dollars on a replacement.
If you want your exterior surfaces to be clean and intact for as long as possible, pressure washing is highly recommended.
Pressure washing is a cleaning process that uses water under high pressure to remove dirt, grime, mold, moss, dust, chewing gum, and even loose paint. Pressure washing your home is recommended at least once a year to remove hard build-ups and boost the curb appeal of your home.
What's more, regular pressure washing prolongs the lifespan of your exterior surfaces, saving you a large amount of money on repairs or replacements. Pressure washing can be used to clean all kinds of exterior surfaces, from sidewalks to sidings.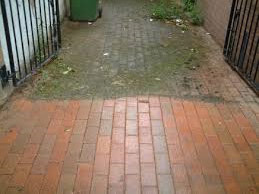 Power Wash KC - Pressure Washing Near Me
We have more than 29 years of experience in helping people maintain a positive curb appeal of their homes. With so many years of experience and training in the pressure washing business, we know how to clean any type of surface efficiently without causing any damage.
You can count on us to handle even the most delicate job as best as possible, on time, and at an affordable price. Our technicians are friendly and will do everything to provide you with excellent customer service.
By hiring us, you can be sure that there won't be any unexpected charges. Before we start with our job, we'll discuss everything with you and make sure you know how we'll proceed with cleaning. After the job is done we'll double-check everything to ensure it's to your satisfaction.
If you have any additional questions about our pressure washing service, don't hesitate to ask us. Questions are always welcome because we love explaining to customers what we do. This way we can build a trusting relationship with our customers because everything is transparent.