Because of their large plain walls, commercial buildings are the most common targets for graffiti. Although there is some graffiti that can be considered genuine art, most of it is offensive slogans or pure gibberish.
If you don't remove graffiti in time, it'll negatively impact your business – especially if it depends on walk-in customers. Don't let your business suffer, give us a call and hire our professional graffiti removal service. Our crew will be on the way ASAP restoring your commercial property to its original condition.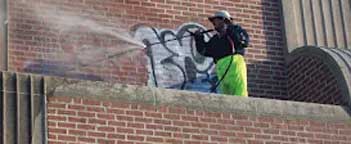 We Provide The Best Graffiti Removal Service
We understand far too well how easily your business can be disrupted due to someone's decision to practice street art on your commercial property. This is why our graffiti cleaning crew works fast to clean up any mess as soon as you contact us.
With more than 29 years of experience under our belt and the use of innovative tools, we'll effectively remove paint and other substances from any surface of your commercial property.
We don't only use high-grade paint remover, we also use high-pressure water to remove every remnant of graffiti from the wall.
Don't let careless acts of vandalism hurt your bottom line, give us a call. With more than 29 years in the cleaning business, we are one of the best and most experienced graffiti cleaning companies in Kansas City.