Concrete Cleaning in Kansas City
Concrete is a tough material that can last for hundreds of years. However, if it's subjected to daily wear and tear and isn't maintained regularly, concrete will crumble in a matter of years. Even if the conditions aren't so harsh to cause your concrete surfaces to deteriorate, it'll definitely tarnish your home's outdoor surfaces.
Your sidewalk, driveway, patio, or concrete staircase can be the perfect nesting place for organic growth like mold, moss, grime, algae, and fungi. This is especially true during the spring and fall when the humidity is high. In a matter of weeks, your pristine concrete can take up a nasty-looking green/black color.
If you want your concrete to last for as long as possible, you need to clean it at least once a year. By cleaning we don't mean spraying it with your garden hose nor scrubbing it with a strong detergent by hand. That is too much effort, for almost no real results. You'll need a professional concrete cleaning service that can deep clean your concrete surfaces.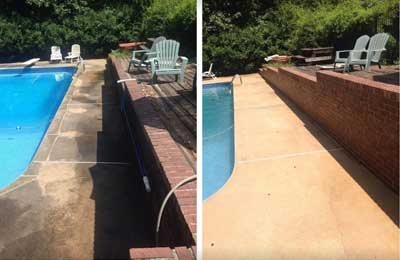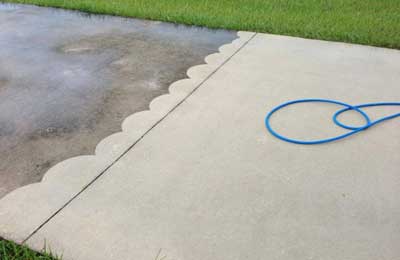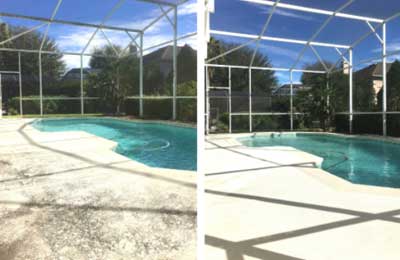 Concrete Cleaning Near Me?
We're here to help you clean your concrete surfaces and raise the curb appeal and value of your property. We have the right equipment and the necessary knowledge to make your concrete clean and free from organic growth to the tiniest pore.
Our concrete pressure washing service will have your concrete clean in no time. We use special equipment and water under high pressure to penetrate all the pores on the surface. This way organic growth and impurities are efficiently removed.
We have more than 29 years of experience in the cleaning business, so expect nothing less from us than high-quality customer service and a fantastically done job. If you have any questions, feel free to ask us. We'll take our time to answer in-depth everything you want to know.
Contact us today and make your concrete surfaces look better than ever before.